Welcome to LIBROS
LIBROS is New Mexico's Book Arts Guild offering a variety of inspiration for both traditional and experimental artist's books. We hold regular meetings on the 1st Saturday of the month, as well as annual and special exhibits. We welcome new members and guests – please see our Calendar page a list of upcoming meetings.
2014 Annual Members Exhibit
Monday, April 7 – Friday, May 31, 2014
"Handmade"
The 2014 Annual Member Show of handmade and artist books will be held at the Albuquerque/Bernalillo County Main Library, Second Floor, 501 Copper Ave NW, Albuquerque, NM.
We will have two hands-on DEMONSTRATIONS for the public, one in April and one in May, where they (and you) can make a simple HANDMADE book to take home. Dates TBC.
Saturday, May 3, 2014, 9am–noon
Spiraling into Books with Margy O'Brien
Program and Workshop (to be held at the National Hispanic Cultural Center)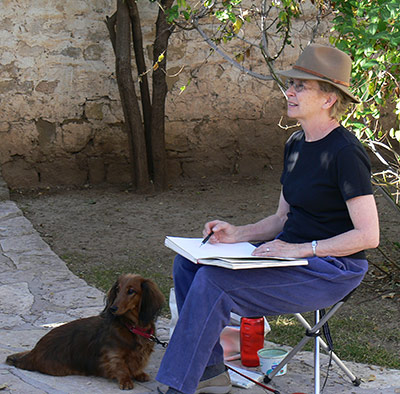 "Throughout my art career I have kept sketchbooks and nature journals. They often fueled my studio fine art work and also ceramic tile commissions. About the time I discovered LIBROS, I realized my books themselves are my art, not just a tool for recording observations and incubating ideas for larger artworks. In this program I will describe my spiral journey to combining my love of nature and book arts. (The powerpoint slides take 45 – 60 minutes plus time for questions and discussion, and I will bring many of my books to display.)"
Workshop: Launch yourself on the path of keeping a nature journal. Practice slowing down, carefully observing and connecting your inner self with the outer realm of nature. Bring a blank book of your choice with unlined pages that can handle light watercolor washes and writing. Also bring any art supplies you may have - pencils, pens, watercolors, colored pencils. I will provide a large array of natural objects to work from, some additional art supplies, and a variety of drawing and writing prompts to practice and continue in your own nature journals. (2 hrs, $25 workshop fee).
Check our our Calendar page for more...
If you're a LIBROS member, don't forget to join librosnmbag where you can keep up to date with fellow members. Jo Bryant is the Moderator of the LIBROS Yahoo Group. To sign up so you can post messages, first open a Yahoo Groups account, then send Jo an (her email is also on the Yahoo Groups home page near the logo).