Welcome to LIBROS
LIBROS is New Mexico's Book Arts Guild offering a variety of inspiration for both traditional and experimental artist's books. We hold regular meetings on the 1st Saturday of the month, as well as annual and special exhibits. We welcome new members and guests – please see our Calendar page a list of upcoming meetings.
Saturday, April 4, 2014, 9am–noon
Golden Acrylics Lecture and Demonstration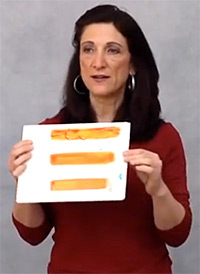 Nancy Reyner will present a custom lecture/demonstration covering the wide range of acrylic paints, products and techniques useful for artists in book arts, mixed media and painting. The lecture includes the latest in new paint innovations, and although this is not an official hands-on painting workshop, it includes many wet and dry pass around examples of the techniques covered, as well as free take home samples, color charts and information packets.
Nancy Reyner is an artist, author and instructor of more than 30 years experience. She holds a BFA from Rhode Island School of Design and MFA from Columbia University. See more of Nancy's work and blog on nancyreyner.com.
Saturday, May 2, 2014, 9am–noon
Guest Artist: Suzanne Vilmain
Santa Fe Artist Suzanne Vilmain will present her work and discuss her art and process in the adventure of making books. She has worked as a teacher, graphic designer, letterpress printer, papermaker, and maker of clay objects among others.
Suzanne will also offer a hands on workshop from 12:30 to 3:00. Content of the workshop will be announced later. For an overview of Suzanne's work and process, the links to her YouTube video and blog is as follows:
Video
Blog
If you're a LIBROS member, don't forget to join librosnmbag where you can keep up to date with fellow members. Karen Woolsey is the Moderator of the LIBROS Yahoo Group. To sign up so you can post messages, first open a Yahoo Groups account, then send Karen an email at: (her email is also on the Yahoo Groups home page near the logo).

"Trying It Out"
August 2014
LIBROS is pleased to announce a new program called "Trying It Out" which will be especially helpful for beginners. We will work through Alisa Golden's book Creating Handmade Books, one chapter at a time. At each monthly meeting, you can bring the book you made during the previous month and get help with any of the steps. You can buy this book online at Amazon or borrow it from the LIBROS library (for one month only!). For more info, email Mita.
Latest Newsletter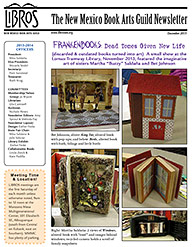 Download the December 2013 Newsletter (540KB PDF) for the latest LIBROS news.
Pay by PayPal/Credit Card
LIBROS accepts online payments for Membership through PayPal's secure online payment system. You do NOT need a PayPal account to pay by credit or debit card. Membership renewal is due by September of each year.