Welcome to LIBROS
LIBROS is New Mexico's Book Arts Guild offering a variety of inspiration for both traditional and experimental artist's books. We hold regular meetings on the 1st Saturday of the month, as well as annual and special exhibits. We welcome new members and guests – please see our Calendar page a list of upcoming meetings.
2015 Annual Members Exhibit
April 10 – May 30, 2015
"Books as Art"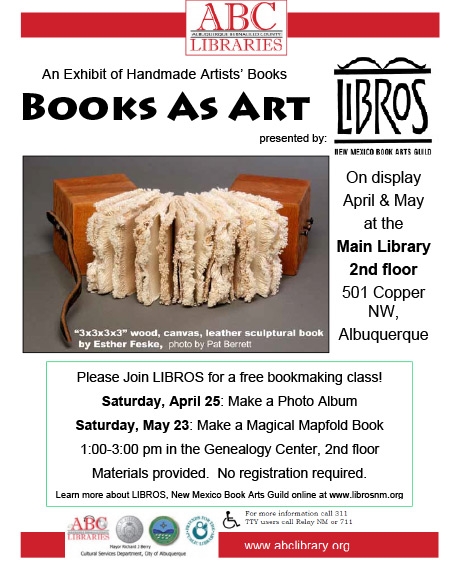 The 2015 Annual Member Show of handmade and artist books will be held at the Albuquerque/Bernalillo County Main Library, Second Floor, 501 Copper Ave NW, Albuquerque, NM.
Please join us for FREE bookmaking classes by LIBROS members:
Saturday, April 25: Make a Photo Album
Saturday, May 23: Make a Magical Mapfold Book (pictured above)
Classes are held from 1:00-3:00 pm in the Genealogy Center, 2nd floor of the Main Library. Instruction and Materials provided. No registration required.
Saturday, June 6, 2014, 9am–noon
Topic: Show & Share
For our final meeting of the season, bring any handmade books that you made in a class this past year, or private projects you have worked on.
Also bring any collections you may have. (Mita will bring some of her antique books and special collections!) So bring anything related to the book!
We will be voting in the new board and talking about what people would like for upcoming programs. If they have any art or crafrrelated materials to sell bring that too (a donation to Libros is much welcomed out of any sales).
2015 New Mexico State Fair

Wednesday, September 10 – Sunday, September 20, 2015
LIBROS members exhibit each year at the New Mexico State Fair in the Creative Arts Building at the NM Expo during the month of September.
For entry requirements, download the Bookbinding PDF from the Creative Arts page.
Entry Dates
Friday, August 28, 9am – 5pm
Saturday, August 29, 9am–5pm
For download rules for other Divisions, visit the Creative Arts Entries & Rules page. Acrobat Reader may be required (free from Get Adobe Reader).
If you're a LIBROS member, don't forget to join librosnmbag where you can keep up to date with fellow members. Karen Woolsey is the Moderator of the LIBROS Yahoo Group. To sign up so you can post messages, first open a Yahoo Groups account, then send Karen an email at: (her email is also on the Yahoo Groups home page near the logo).