Welcome to LIBROS
LIBROS is New Mexico's Book Arts Guild offering a variety of inspiration for both traditional and experimental artist's books. We hold regular meetings on the 1st Saturday of the month, as well as annual and special exhibits.
We welcome new members and guests – please see our Calendar page a list of upcoming meetings, or check our our archive of Past Programs.
The June meeting was the last LIBROS meeting of the season. There will not be a regularly scheduled meeting in July. The next season begins in August 2016.
Many thanks to this year's program committee: Carrol Moxham, Sue Ortiz, Ruth Krug, Esther Feske, Kate Padilla, and Kent Swanson.
Workshop News
Folded Explosion Book with variations
Instructor: Marilyn Stablein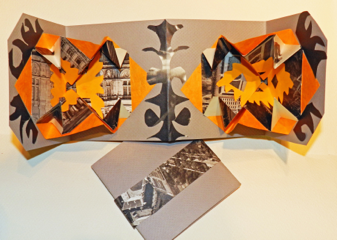 $25 fee, workshop limited to 12, Register with Paypal at marilynstablein.com
Saturday June 18, 2016, 9:30-12:30  (includes 30 minute wrap up)
Location: New Tricks Art Workshop, 1751 Bellamah NW-Suite 2101
Download FLYER PDF for details.
You're Invited! Talk & Book Event: Wednesday, June 15, 6pm, free
Marilyn Stablein presents her new monograph of artist books Bind, Alter, Fold at Bookworks, Rio Grande Blvd.
Buttonhole Book
Saturday, July 9, 2016, 9am–1pm
UNM Continuing Ed, Albuquerque, NM
Instructor: Pam MacKellar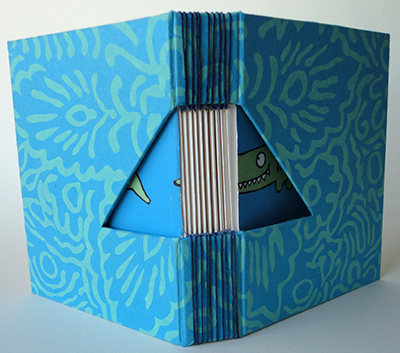 The Buttonhole Book has one or more cutouts in the spine to create "windows" that show the stitched text block behind. Decorative papers wrap around each text section to create visual interest. The signatures are attached to the cover with stitches that wrap around each end of the spine to enhance the cover.
The Buttonhole Book offers many possibilities for variety and embellishment. Pam will explain, demo, teach, and guide you. Some bookbinding experience preferred. Register here.
Questions? Contact Pam at
2015 New Mexico State Fair

Wednesday, September 10 – Sunday, September 20, 2015
LIBROS members exhibit each year at the New Mexico State Fair in the Creative Arts Building at the NM Expo during the month of September.
Download 2015 NM State Fair Awards Results (PDF).
If you're a LIBROS member, don't forget to join librosnmbag where you can keep up to date with fellow members. Karen Woolsey is the Moderator of the LIBROS Yahoo Group. To sign up so you can post messages, first open a Yahoo Groups account, then send Karen an email at: (her email is also on the Yahoo Groups home page near the logo).