Welcome to LIBROS
LIBROS is New Mexico's Book Arts Guild offering a variety of inspiration for both traditional and experimental artist's books. We hold regular meetings on the 1st Saturday of the month, as well as annual and special exhibits. We welcome new members and guests – please see our Calendar page a list of upcoming meetings.
Saturday, April 5, 2014, 9am–noon
Susan Angebranndt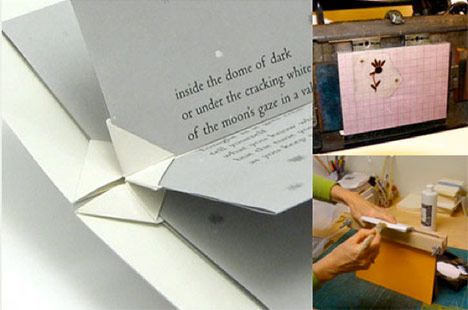 Meet Susan Angebranndt, owner of Green Chair Press in Santa Fe, at our April meeting. Since 1999 she's been making editions of books, prints and cards that combine letterpress and digital printing, as well as pop-ups and other 3-D elements. In this presentation she'll show slides of her work and talk about the conception, design and construction of each one. All the books in the presentation will also be available for people to look at and handle. Susan will also be offering a workshop at her Santa Fe studio using the woven book structure, which will be shown as part of the presentation. All of Susan's work can be seen at greenchairpress.com.
Check our our Calendar page for upcoming meetings...
If you're a LIBROS member, don't forget to join librosnmbag where you can keep up to date with fellow members. Jo Bryant is the Moderator of the LIBROS Yahoo Group. To sign up so you can post messages, first open a Yahoo Groups account, then send Jo an (her email is also on the Yahoo Groups home page near the logo).

Latest Newsletter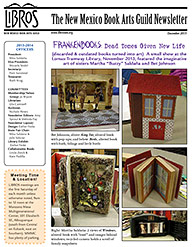 Download the December 2013 Newsletter (540KB PDF) for the latest LIBROS news.
Pay by PayPal/Credit Card
LIBROS accepts online payments for Membership through PayPal's secure online payment system. You do NOT need a PayPal account to pay by credit or debit card. Membership renewal is due by September of each year.