Welcome to LIBROS
LIBROS is New Mexico's Book Arts Guild offering a variety of inspiration for both traditional and experimental artist's books. We hold regular meetings on the 1st Saturday of the month, as well as annual and special exhibits. We welcome new members and guests – please see our Calendar page a list of upcoming meetings.
Saturday, June 6, 2014, 9am–noon
Topic: Show & Share
*** Manzano Mesa Multigenerational Center is temporarily closed for roof repairs. The June meeting will be held at Lomas Tramway Library (Southwest corner; enter off Lomas) from 10 am (NOT 9) to 12:30. We will find lots of kiddies on the patio but the meeting room is available!
Election of officers for 2015–16 and announcements of upcoming programs.
We are doing a kind of show and share. Everyone should bring any books they may have made in a class this past year, or private projects they have worked on. Also bring any collections you may have. Mita is bringing some of her antique books and special collections. Anything related to the book.
If you have any art or craft related materials to sell bring that too. And a donation to Libros is much welcomed out of their sales.
Note: Esther is bringing two boxes of art books, so bring cash/checks!
2015 New Mexico State Fair

Wednesday, September 10 – Sunday, September 20, 2015
LIBROS members exhibit each year at the New Mexico State Fair in the Creative Arts Building at the NM Expo during the month of September.
For entry requirements, download the Bookbinding PDF from the Creative Arts page.
Entry Dates
Friday, August 28, 9am – 5pm
Saturday, August 29, 9am–5pm
For download rules for other Divisions, visit the Creative Arts Entries & Rules page. Acrobat Reader may be required (free from Get Adobe Reader).
If you're a LIBROS member, don't forget to join librosnmbag where you can keep up to date with fellow members. Karen Woolsey is the Moderator of the LIBROS Yahoo Group. To sign up so you can post messages, first open a Yahoo Groups account, then send Karen an email at: (her email is also on the Yahoo Groups home page near the logo).

"Trying It Out"
August 2014
LIBROS is pleased to announce a new program called "Trying It Out" which will be especially helpful for beginners. We will work through Alisa Golden's book Creating Handmade Books, one chapter at a time. At each monthly meeting, you can bring the book you made during the previous month and get help with any of the steps. You can buy this book online at Amazon or borrow it from the LIBROS library (for one month only!). For more info, email Mita.
Latest Newsletter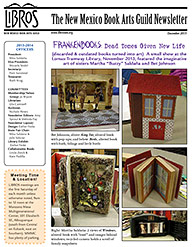 Download the December 2013 Newsletter (540KB PDF) for the latest LIBROS news.
Pay by PayPal/Credit Card
LIBROS accepts online payments for Membership through PayPal's secure online payment system. You do NOT need a PayPal account to pay by credit or debit card. Membership renewal is due by September of each year.