Bookbinding Study Group
The Bookbinding Study Group (BBSG) was established in 2005 to encourage those who wanted the challenge of learning new book-binding techniques and structures beyond the time limitations of the regular meeting. Below are four examples of books made in that group: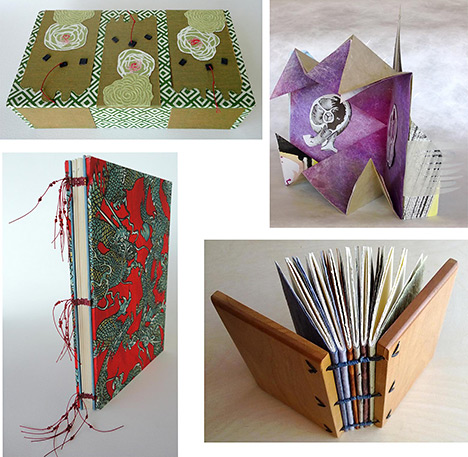 Members of the group choose the dates and the projects for the group which meets monthly. It is expected that participants will have the basic bookbinding skills behind them and then can enjoy working with others on bookbinding and book arts structures and activities. Study group members are asked to participate on a regular basis and to prepare and offer presentations, rotating through the schedule with all other members of the BBSG.
In recent months, the group has studied stub bindings, Jacob's Ladder structures, Cheryl Moote's spectabular book with variations, Daniel Kelm's wire edge bindings, Hedi Kyle's fishbone fold, and cyanotype printing. Future scheduled projects already sound fascinating!
If you are not on the BBSG e-mail list to participate, and would like to join us, please e-mail Carol Erickson at
Study Group News
2009 Woodcut Book Project
Dale Harris was the Study Group leader for an ambitious September 2009 project: Nine artists would carve two woodblocks each, and make enough prints to share with the other participants. Each artist would then use the woodblocks for the front and back covers of the resulting book. The books were bound with Coptic stitching. Everyone who participated ended up with a fabulous book and collection of prints! This project was featured in Bound & Lettered magazine, Spring 2010. You can download as a PDF associated figures showing how to create the woodcut book signatures (PDF).
Visual Journals Study Group
This Study Group has been active since July 2011 in fostering exploration of expressive techniques applicable to making, illustrating and embellishing personal journals. Those techniques may include painting, stamping, collage, writing and many other mixed-media methods.
Meetings are informal and past experience is not required. There are no fees and no teachers; however, members must be willing to take their turn in rotation in presenting ideas and demos to the group.
The group meets the third Saturday of each month at the Bear Canyon Senior Center, 4645 Pitt NE, near the intersection of Montgomery and Eubank NE from noon to 3pm. All LIBROS members are eligible to visit or join the Visual Journals group, just let co-coordinator Karen Woolsey know in advance at
Nature Journaling
Study Group
The Nature Journaling Special Interest Group met for the first time in September 2014 with several members meeting at Debbie Finfrock's mountain home. With perfect weather (a mix of sun and rain), the members went their separate ways, drawing, painting, and doing whatever else they wanted in order to express themselves and record the natural surroundings in their journals. We rotate leadership, with volunteers taking responsibility for chosing a date and place to meet.
LIBROS members who might like to join us should contact Melinda Fay at